Regular price
$29.00 USD
Sale price
$44.00 USD
Unit price
per
Sale
Sold out
SIGNS: We email rendering within 36hrs for APPROVAL once order placed
These medium sized 4" x 18" versions of our best selling ski trail / piste marker name signs let you bring a small bit of your favourite ski resort home ... or send to someone longing to be back. They work great as door signs or perhaps where you don't have quite the wall space for the full size version.
As we are selling mainly to Canadians and Americans most of the examples we have done are for North American styles of sign … but if you want the European ski trail sign look then we can do that too. Just mention this on the order.
Tell us the name of the resort & the name of the run and we'll do the rest ... whether it's your most challenging double black run or the bunny hill where you started out or the run you like to cruise the most. The examples shown are from some of our favourites.
#### PLEASE ENSURE TO WRITE EXACTLY AS YOU WANT THE TEXT TO APPEAR including whether upper (CAPS) or lower case ... we are not responsible for checking your spelling or correcting your punctuation as we will copy & paste exactly what you tell us you want on the sign ####
These signs are 4" tall & 18" wide. We can make versions for blue or green runs, single black or double or even triple black runs, as well as red "ski patrol" versions as below ...
AVAILABLE RUN GRADES
- triple black diamond
- double black diamond
- double black diamond with 'EX'
- single black diamond
- blue square
- green circle
- red ski patrol (with crosses either side)
- orange terrain park with rounded rectangle symbol.
These signs are made from solid pine as standard (or you can upgrade to clear pine for an additional charge) & finished with either the specified paint colour or a dark walnut stain, and then a protective clear coat is applied over everything other than the back side.

Please remember that wood by its very nature is an imperfect material with natural character and no two pieces are exactly the same. The Canadian maple does not have the knots that pine may have and is somewhat more predictable. As with all our signs we will send you a rendering first once we get your order so you can make any corrections ... and then from there it takes only a few days before this is on it's way.
****** Remember to check the spelling and punctuation is as you intended when you approve the rendering as it is too late to make changes once approved ******
If you have any questions; as always message us and we will do our best to provide exactly what you are looking for. Other sizes are available on our Etsy store. Non-standard sizes / colours / graphics would be considered a custom order request. ## Please note that for any personalized products we will send you a rendering for approval via the messenger here on Etsy and if we do not get a response within 48hrs then we will assume all is good and proceed with that version
WALL MOUNTING
For indoors use our signs are intended to be mounted on the wall or a door or some other vertical flat surface. The standard sized signs are light enough that command strips or similar will work and do not leave a mark. Alternatively as of Jan 2022 we will supply metal hangers with all our signs unless advised otherwise. These are the type that slip over 2 screws on the surface so that the sign does not protrude more than about 1/8" from the wall.
Materials

Here are the standard wood options

All our products are made from solid wood with the exception of birch or other varieties of plywood which are an option on some specific items.

Wood by it's very nature (being an all natural material) has ut's character traits ... some species more than others. Pine, fir and to a lesser excent cedar all have knots and significant colour variation is possible. Maple is more pedictable with very few knots. Birch plywood is much like maple but a more affordable option, however carving plywood reveals the core layers which can be of a different shade.
Shipping & Returns

We will start to make your sign AFTER any personalization has been approved via email [we send you a computer rendering within 48hrs of receiving your order]. It then takes 3-5 days once you have given approval via email reply to carve, finish, pack & ship.

NOTE: We are not responsible for delays caused by customs or other carrier-related delays out of our control. When your order ships you will get a calculated ESTIMATED time of arrival based on the carrier's own standards, but this is not a guaranteed arrival date.

We only ship with trackable methods such as Canada Post Expedited Parcel, etc. Contact us within 14 days of receipt with any damage or other product concerns. For returns we need to receive the product back within 30 days of you receiving it and it must be in new condition (unless of course it arrived damaged).
Dimensions

We actually make our products using mm but we will quote sizes in both mm & the closest inch dimensions. It's just way more precise to use mm in the workshop.
Care Instructions

We use exterior grade paints but only the fir (or cedar) sign products have an exterior clear coat on them. As long as you avoid spilling anything on the wood or wipe off immediately then there should be minimal maintenance required ... wipe down with a damp cloth. As with any wood product try to avoid excessive temperature fluctuations as the wood can distort. Some amount of fading is to be expected with any painted wood product exposed to the sun & elements over time ... much in the same way that the siding on a house or your car will fade in the sun eventually.
Share
View full details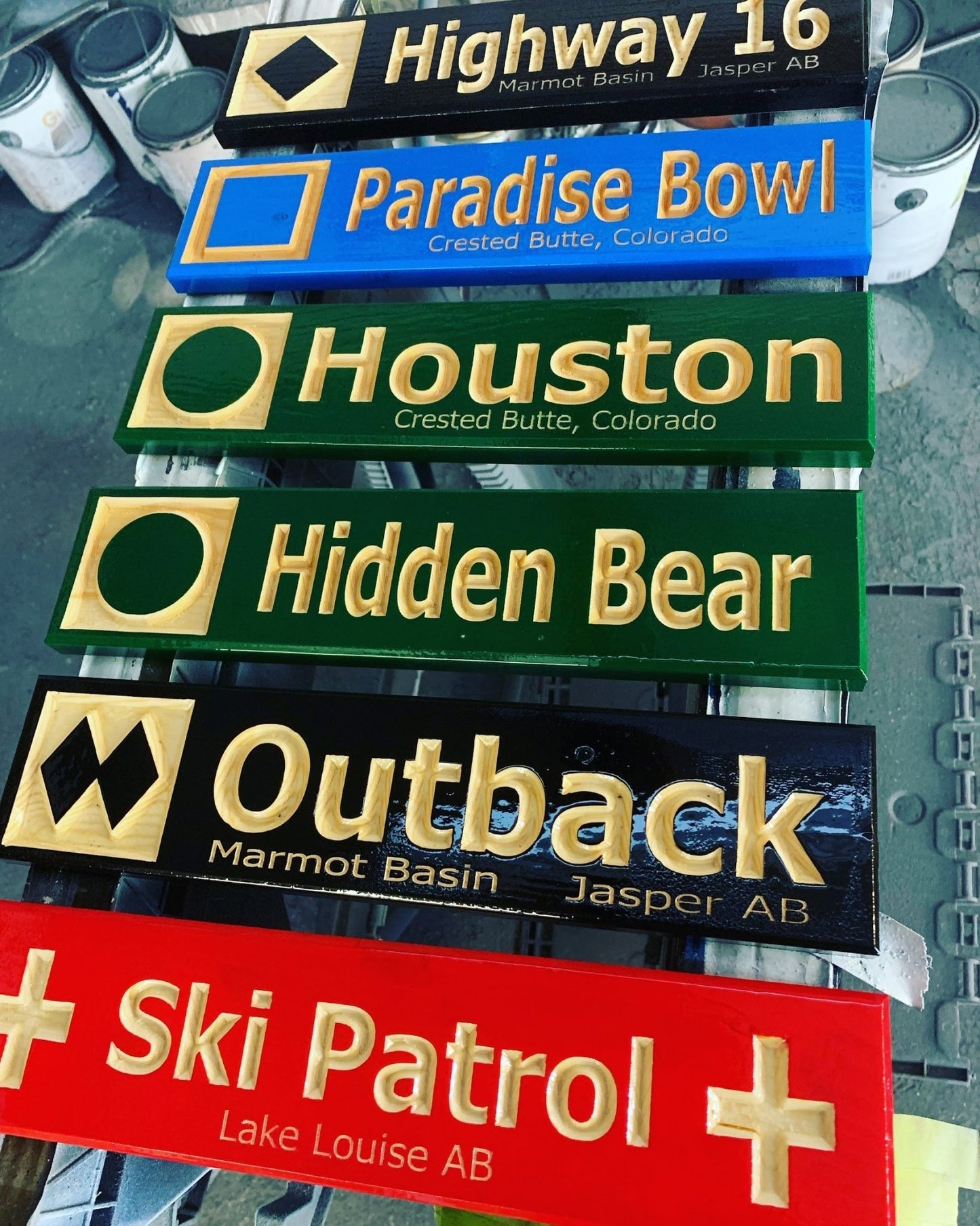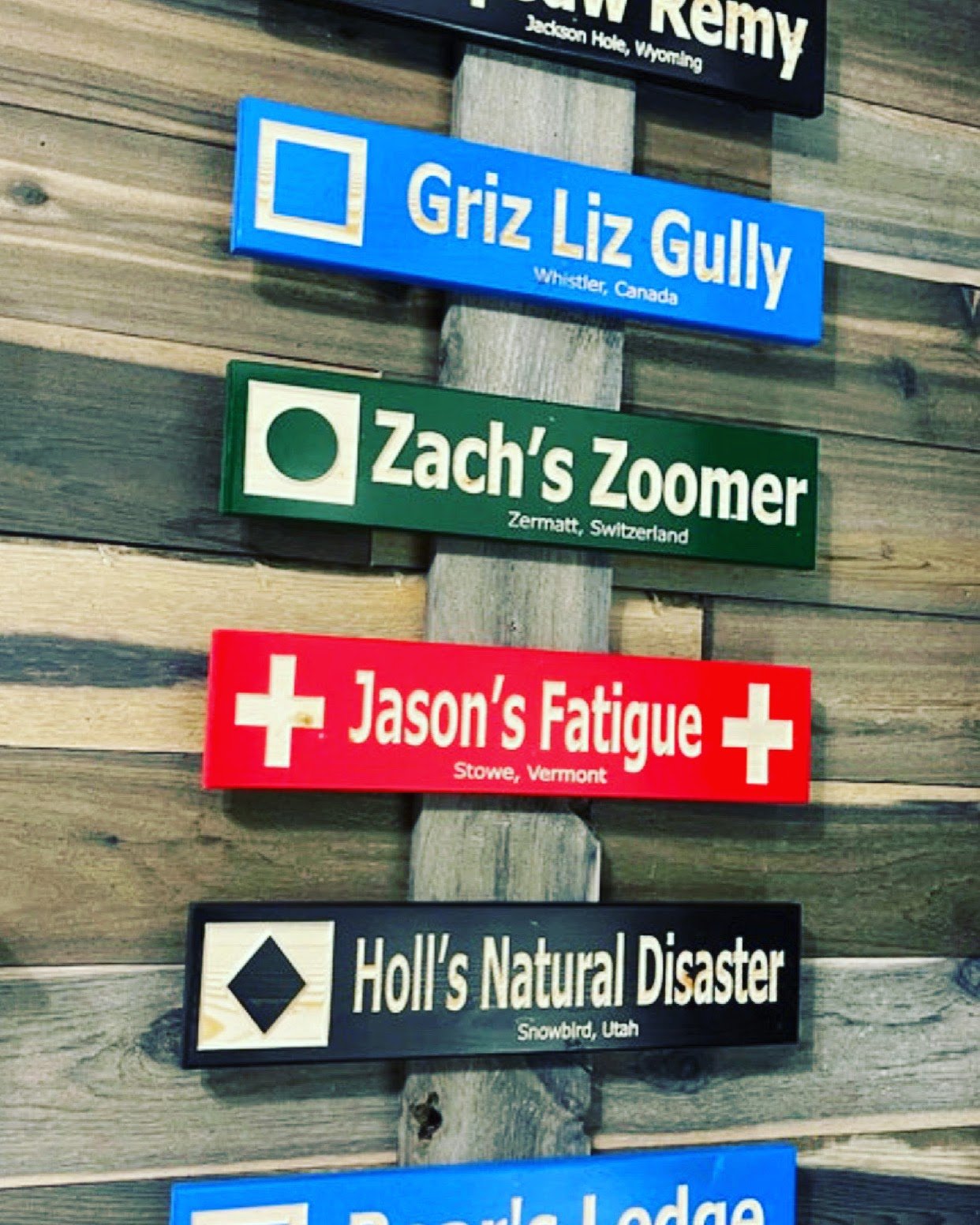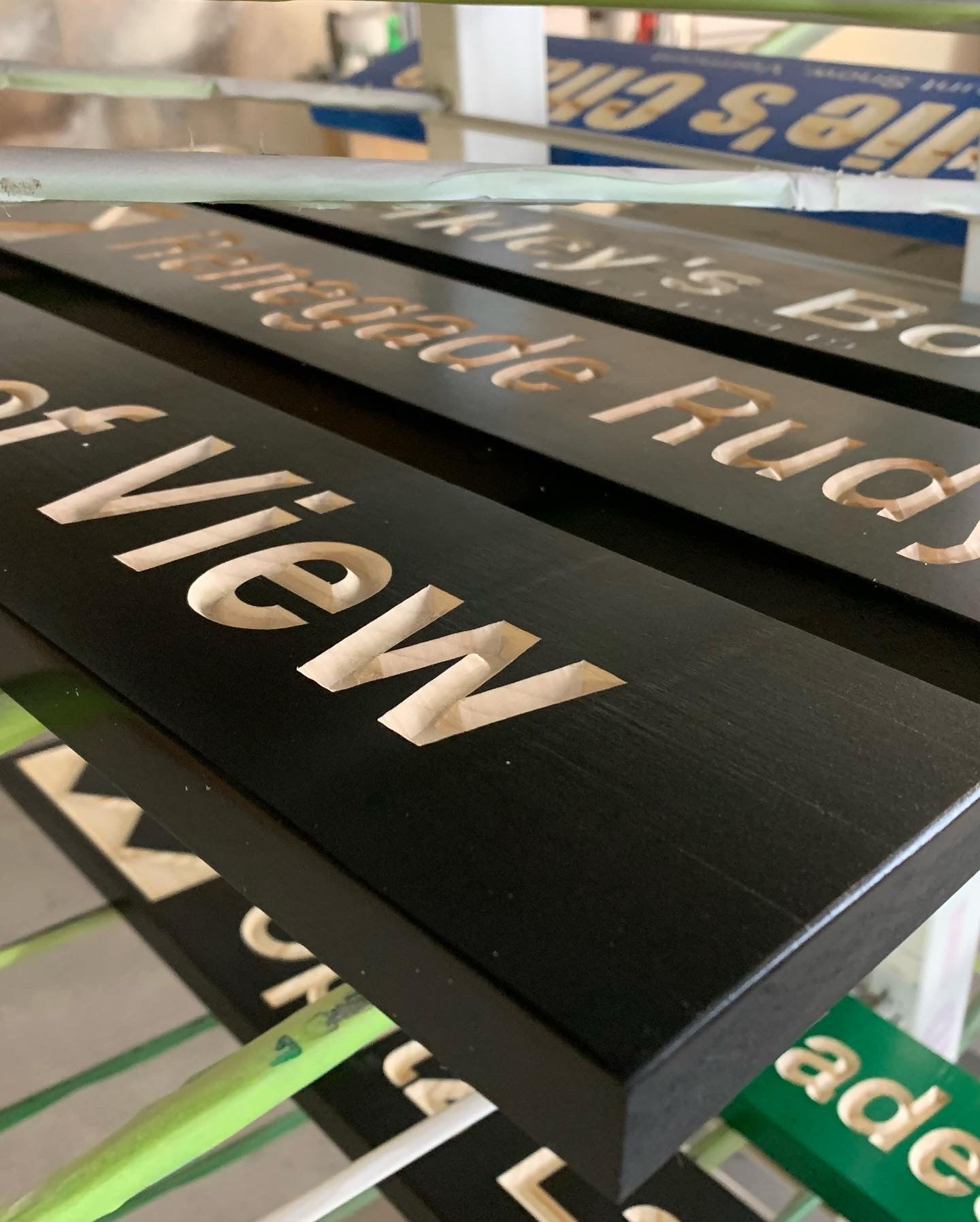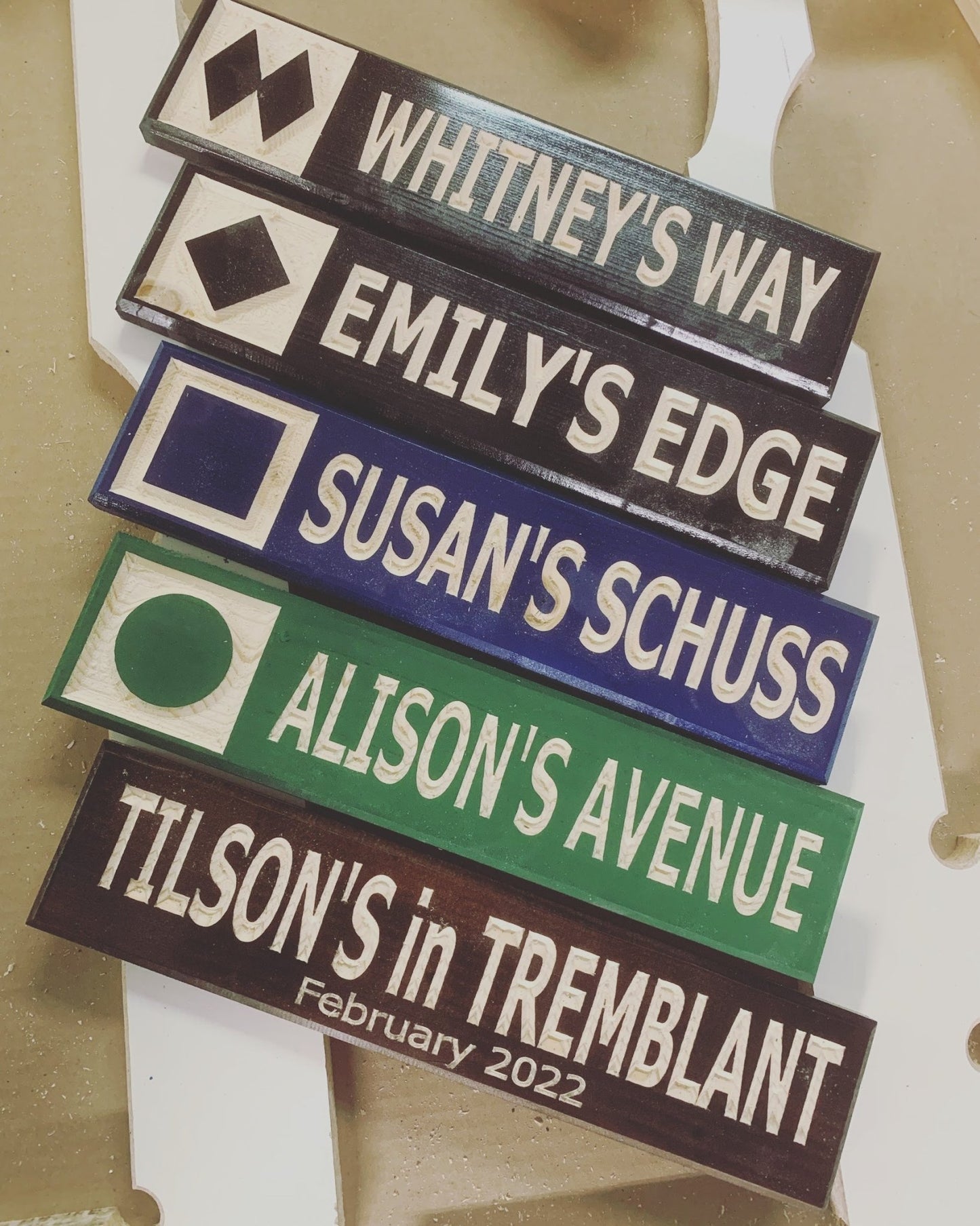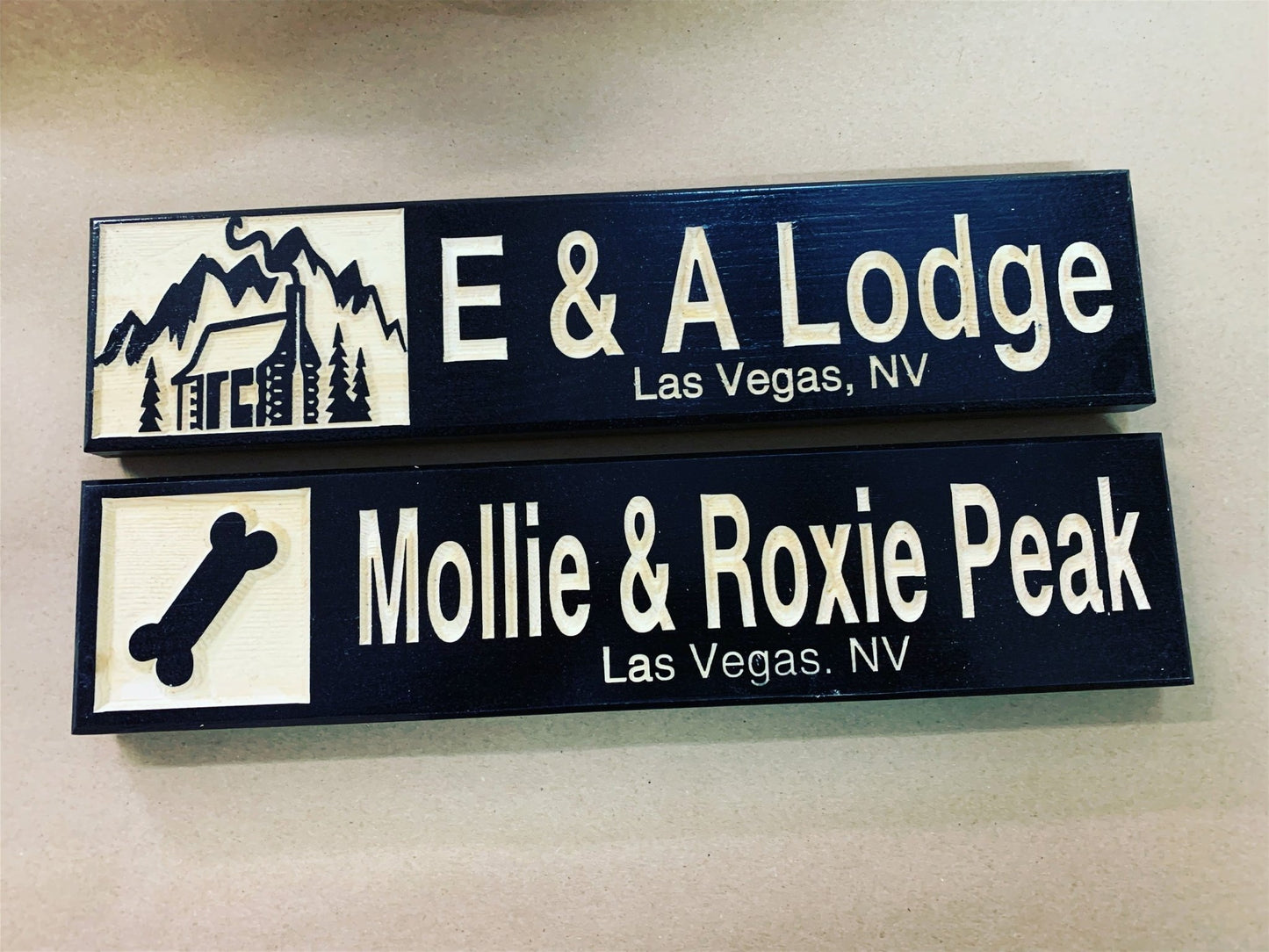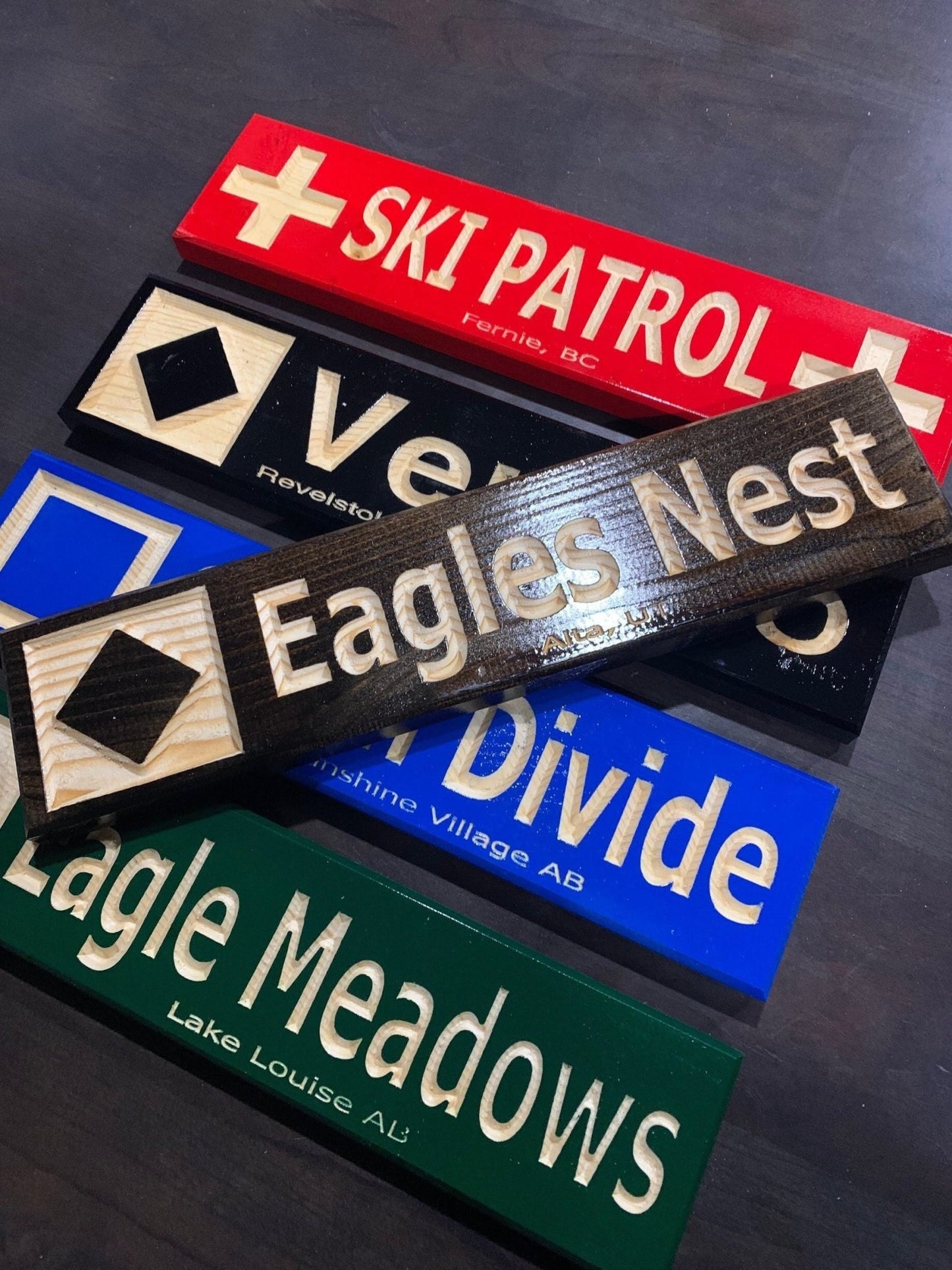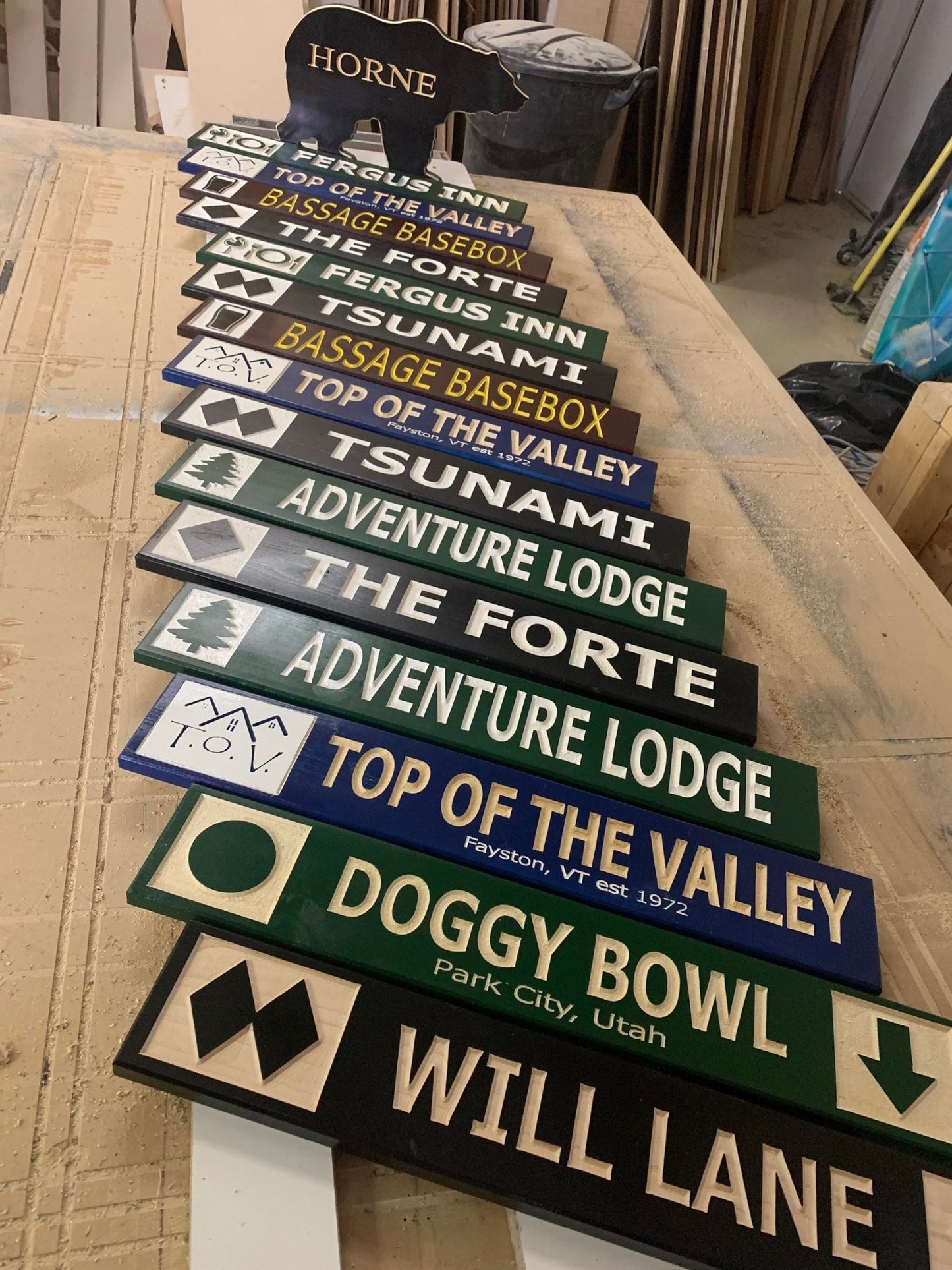 Are you in to the "weathered" look?
This one is perfect for that fun piece at the cabin and we have both a skier and snowboarder version.
Perhaps you'd like the aged look if the skiers at your cabin are a bit "weathered" themselves with a few laps of the bumps under their belt.
Shipping Included

For the vast majority of products shipping is included for customers in Canada or USA (lower 49). Shipping charges apply for other international destinations.

We realize many websites will mention "Free shipping" but I think we all know it has been factored in to the price rather than actually being "free". Call me old fashioned but I believe in being honest about this sort of stuff.

Hassle-Free Exchanges

If your order arrives damaged then we will send a replacement provided you notify us within 14 days of receipt. Please note that the natural character traits of wood are not considered damage ... these are wood signs after all. We suggest the maple option if you prefer less in terms of "character".

Any non-personalized products can be returned within 30 days for a refund, however you will need to pay for shipping if for any reason other than damage or wrong product and they must arrive back in the original condition.